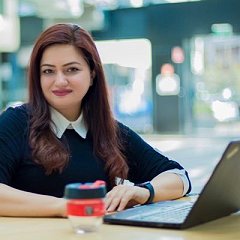 Registered user since Tue 18 Dec 2018
Bio:
Dr Muneera Bano has over a decade of experience in academic teaching, research, supervision, and leadership with demonstrated ability to work both independently and as an integral part of a team. She is currently Lecturer in Faculty of Science Engineering and Technology at Swinburne University of Technology. She graduated from Faculty of Engineering and Information Technology, University of Technology Sydney in 2015 with a PhD in Software Engineering. Since graduation, she has worked as a Post-doctoral research fellow, and Learning and Teaching Adjunct in Faculty of Engineering and IT at University of Technology Sydney till July 2017.
During her research career, Muneera has also received prestigious recognition for her work, including being named as a finalist for Google Australia's Anita Borg Award for Women in Computer Science, Asia-Pacific 2015. She was also the recipient of Schlumberger's Award for Women in STEM (2014 and 2015) and was given the 'distinguished research paper award' at International Requirements Engineering Conference held in August 2018. She has been announced as 'Superstar of STEM' for 2019/2020 by Science & Technology Australia, with the aim to smash society's gender assumptions about scientists and increase the public visibility of women in STEM.
Affiliation:
Swinburne University of Technology, Melbourne
Research interests:
Software Engineering Education, Sentiment Analysis, Social Media Analysis
Contributions