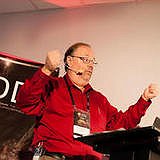 Registered user since Wed 20 Aug 2014
Bio:
Joseph Yoder (agilist, computer scientist, and pattern author) is the founder and principle of The Refactory, a company focused on software architecture, design, implementation, consulting and mentoring on all facets of software development. Joe serves as president of the board of The Hillside Group, a group dedicated to improving the quality of life of everyone who uses, builds, and encounters software systems. He is best known as an author of the Big Ball of Mud pattern, which illuminates many fallacies in software architecture. Joe teaches and mentors developers on agile and lean practices, architecture, building flexible systems, clean design, patterns, refactoring, and testing. Joe thinks software is still too hard to change. He wants to do something about this and believes that you can start solving this problem through the use of best practices (patterns) and by putting the ability to change software into the hands of the people with the knowledge to change it.
Joe has recently been innovating, collecting and writing on the best practices and patterns on Being Agile at Quality. During this time he has given presentations, workshops, and keynotes at various conferences and in industrial settings. He has published (and continues writing and collecting) over two dozen patterns on this topic. Joe have also been working with organizations on the best practices for Agile Quality Assurance, helping them apply these techniques, and has shepherded Agile Experience reports on the topic. Variations of this some of this material has been presented as talks and workshop/tutorials at various conferences (Agile, JDD in Poland, SugarLoaf PLoP, Agile Portugal, AgileBrazil, YOW! in Australia, Saturn, and Israel Conference on Software Architecture) and to some of Joe's clients. In 2015 Joe won the New Directions award with a colleague at Saturn 2015, given to the presentation that best describes innovative new approaches and thought leadership in the application of architecture-centric practices for his presentation QA to AQ: Shifting from Quality Assurance to Agile Quality (see here).
Affiliation:
The Refactory, Inc.
Research interests:
Agile, Adaptive Systems, Meta-Architectures, Patterns, Refactoring, Frameworks, Reuse, Architecture
Contributions